The Weather
Climate
Cuba lies at the rim of the tropics and therefore has only two "seasons": the (comparatively) drier and cooler between November and April and the (comparatively) warmer and more humid between May and Ocotober, which has dry and paticularly hot stretches in July and August. For our standards, it is always warm with an average January minimum of not less than 18°C and far more than 30°C in August; the sea temperature is never below 24°C – all these being the statistical values of Havana at the "cool" north coast.
Windfinder
Windy.com
Wind
The reliable trade winds are blowing constantly from easterly directions with a tendency to the north in winter and to the south in summer. Wind speed averages at 10 to 15 knots in winter and 5 to 10 knots in summer, when calm times are also possible. Especially where the mountains reach close to the coastline, catabatic effects can be observed to influence the prevailing easterlies. This weather system is subject to two main disturbances: the nortes or northers in winter, violent intrusions of cold air, which affect the nort coast with nominable drops of temperature that cause all Havana to catch a cold and make many harbour entrances virtually impassable. Hurricanes can only arise at water temperatures of more than 27°C in the Atlantic and are therefore limited to the late summer months with a peak in September and October. Modern meteorology is able to predict these tropical storms very reliably.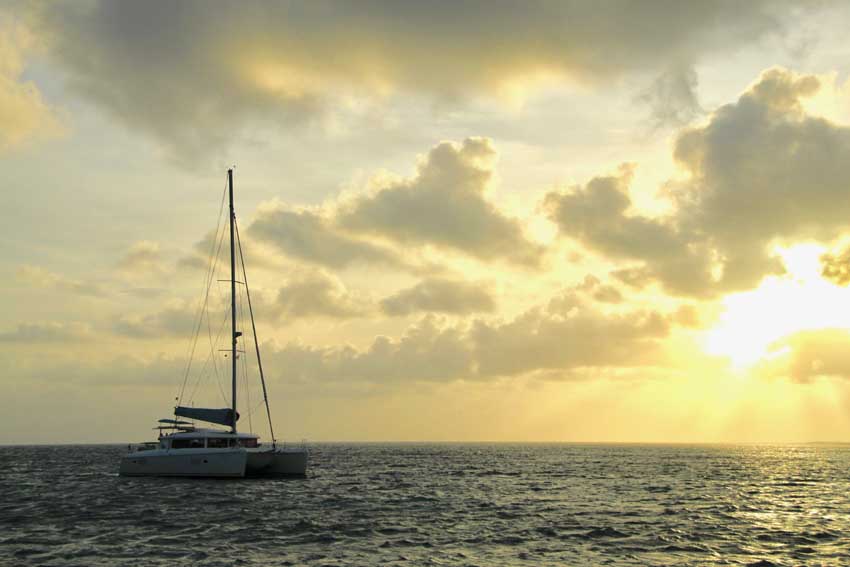 Tides
Along the whole Cuban coast there are only minor tides which reach a maximum of 0,6 m at he northwest coast. At the south coast we have an irregular semidiurnal tide of less than half a meter, which, however, should be taken into account in island passages and shallow areas. Currents are, except in very narrow passages, very moderate.
Magnetic variation
The local magnetic variation increases from west (Cabo San Antonio in 2000: ca. 1°W) to east (Punta Maisí: ca. 8°W) with an annual increase of ca. 8'W.
Coastal Formation
Even in the age of GPS and chart plotters, the sharp eye of the skipper remains the most important navigational instrument. "Eyeball Navigation" is madatory, most of all the correct recognition and interpretation of the colour shades of the water. An elevated position and polarizing sunglasses are very useful at this "living" coast: coral and mangroves don't stick to navigational mapping and have certainly developed on since the last survey! Outside protected lagoons there can also be a significant movement of the sea in shallow waters. The bottom of the sea rises more or less vertically from a depth of more than a thousand meters to close beyond the surface. The most significant gradient on the whole earth is near the southeast coast of Cuba: from Pico Turquino (1972 m) in the Sierra Maestra down to a depth of more than 7000 m below sea level.